Julian M. Ortiz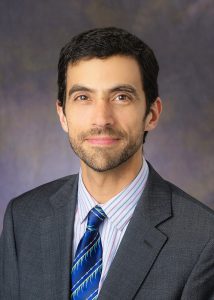 Dr. Ortiz received a B.Sc. in Mining Engineering from Universidad de Chile (Chile), in 1998. He received a Ph.D. in Mining Engineering, specializing in Geostatistics, from University of Alberta (Canada), in 2003. He is a Competent Person in Geostatistics registered under the Chilean mining Commission (Reg. Number 0296, 2016).
Dr. Ortiz is Associate Professor in the Robert M. Buchan Department of Mining at Queen's University (Canada), and has a cross-appointment with the Geological Sciences and Geological Engineering Department. He holds the Stollery Professorship in Mining and Geological Engineering.
This involves teaching duties at the undergraduate and graduate level, independent and collaborative research, including advising of Master and Doctoral students, application and direction of long-term collaborative scientific and industrial projects, and participating in administrative and university service work.
Oscar Rielo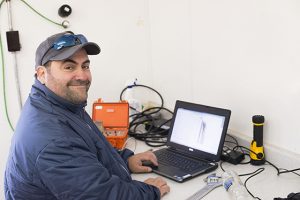 Oscar Rielo is an Electronics Engineer (UTN Argentina), M.A.Sc. in Computer Hardware Design and M.A.Sc. in Satellite Communication Protocols.
Since 1994 he has worked in numerous projects for different clients like AT&T and IBM, designing electronics and software in order to achieve complex targets. In 2003, he joined the Royal Military College (RMC) of Canada. As Instrumentation and Electronics Technologist, he developed numerous systems to allow high speed communications, blasting monitoring, equipment monitoring, and control systems. During this process, he got involved into teaching and research about new applications and new technologies that are applicable to the real world. In 2007, he joined Queen's University and followed up on his interest for hardware development, this time, applied to Mining. Since he joined the Robert M. Buchan Department of Mining, he has participated in projects like: Development of blasting sensors capable of measuring values that before, where unobtainable. He also developed measurement methods for dynamic signals. He has also developed hardware in the area of robotics and automation, creating the backbone for auto loading systems on LHD's. Currently, he works on designing smart monitoring systems that will allow the client to know the status of their equipment without the need of a communications network.
Willy Kracht (International collaborator)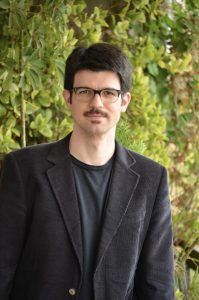 Dr. Willy Kracht has a B.Sc. in Chemical Engineering and M.Sc. in Extractive Metallurgy from Universidad de Chile, and holds a Ph.D. in Mining and Materials Engineering from McGill University. He is currently Associate Professor at the Department of Mining Engineering, at Universidad de Chile, and Principal Researcher at the Advanced Mining Technology Center. He is also Adjunct Associate Professor at the Robert M. Buchan Department of Mining – Queen's University.
He teaches at undergraduate and graduate level, and has been involved in the academic committees of both the MSc Program in Extractive Metallurgy, and the PhD Program in Mining. Has been teaching courses in mineral processing since 2008. Also participates in diploma courses, for professionals in the mining industry (continuous education). Among the courses that he teaches, are: Minerals Processing Engineering; Analysis and Simulation of Mineral Processes.
As a researcher, his areas of interest are mineral processing, geometallurgy, and integration of renewable energies. He has experience in the following topics: flotation; gas dispersion characteristics; chemistry and hydrodynamics; development of sensors to characterize mineral processing systems; the use of seawater in mineral processing; chemical aspects of grinding, and water-rock interaction. Lately has been involved in research projects related to the integration of solar energy to mining systems.